Advertise at RealityTVFan.org
RealityTVFan.org is a very popular and high traffic website that has been online for over three years. We bring you videos, news, opinions and so much more about reality TV shows from all over the world.
I am now selling advertising space so that you can benefit from RealityTVFan.orgs traffic and dedicated fans.
RealityTVFan.org gets any where from 10000 to 30000 unique hits per day, averaging at around the 15000 mark. The traffic comes mainly from video sharing sites and direct from search engines. Top 4 countries are the USA, Canada, UK and Australia. Has a Page Rank of 4 with many internal pages ranking from 1 – 3. It ranks very highly in the search engines for some very competitive keywords. Has an Alexa rank around the 95000 mark — and has over 14000 backlinks and 182,000 indexed pages.
Banner Advertising
* 468×60 Banner at top of site above posts – $30/mo – In rotation with a maximum of 2 other banners.
* 728×90 Banner at top of site – $75/mo – Static. Your banner will be the only one displayed.
Blog Posts
* BlogPost is written by me is will be around 300 words in length with a maximum of 2 links. I sell a maximum of 2 paid posts a week to make sure yours gets the exposure it deserves. It will be 'stickied' so it appears at the top of the site for 3 days – $40
* Add your link to an old post. You can insert your link into any post that is over 30 days old. Either by selecting words already used in the post or by tagging 'This post was sponsored by xx' to the bottom. – $10 per link.
All blog posts are permanent.
Other
* Text Link in email digest – $20/mo:
* Banner image in email digest – $25/mo:
The email list has around 800 subscribers and several lots of emails go out each day. Note that users subscribe to specific categories so an email does not go out to every one of the 800 subscribers each time…just the people who subscribed to be notified of new posts in the specific category I am posting in. Maximum of 2 spots will be sold at any one time.
Here is what the email looks like: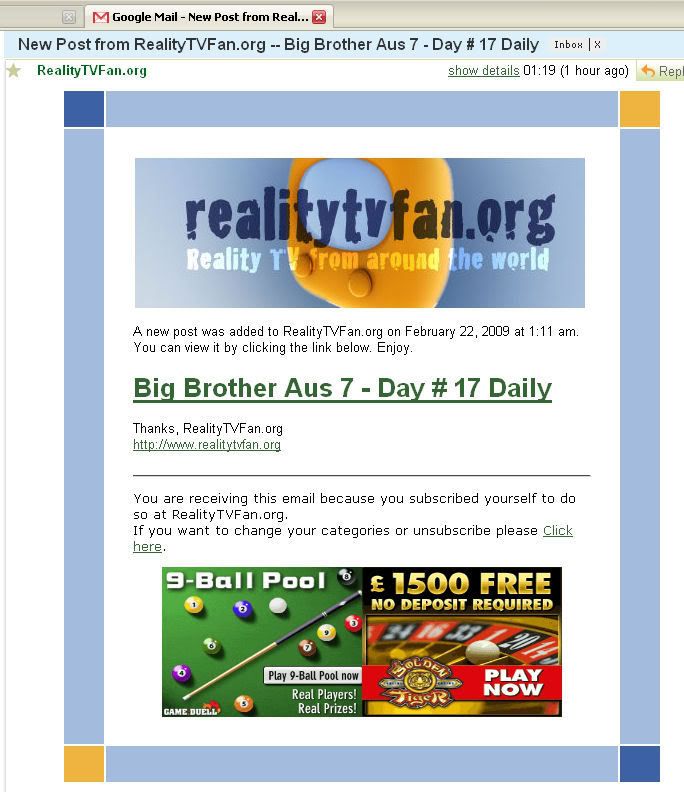 —-
All prices are negotiable if you plan to buy in bulk or for extended periods of time. Will not link to adult, gambling, pharmacy or any sites running CPA lead, excessive popups or any other sort of 'forced' advertising.
If you are interested in advertising on RealityTVFan.org then please send your payment to admin(at)realitytvfan.org and then contact me with your specific request.
Thanks, I look forward to doing business with you.